Ford's Special Vehicle Team has traditionally endowed their creations with proprietary parts and enhanced performance to add value and separate them from the pack. The 2001 Cobra's two most significant equipment upgrades were its all-alloy four-valve DOHC V8 engine and its fully independent rear suspension. However, a myriad of other bits and pieces, from special interiors, wheels, and brakes to unique fascia and badging, helped to distinguish '01 Cobras from lesser Mustangs.
As if all those enhancements weren't enough to firmly establish the Cobra's special standing, SVT also provided a couple of additional mementos to proclaim the distinctive nature of these cars. This page details those items.
NOTE: Like most organizations, Ford's Special Vehicle Team has experienced some perturbations over the years. In fact, SVT has been pronounced dead more than once since the 2001 model year, but is apparently still a viable entity. Nonetheless, it seems SVT no longer enjoys its once celebrated status within the House that Henry built, as evidenced by the fact that the SVT website has been dismantled and the team assimilated by the new "Ford Performance Group." I, for one, hope that SVT can eventually recapture its former glory, but who knows what the future holds in these tumultuous times.

Builders' Signature Placard

All 2001 Cobra engines were hand built by special two-man teams at Ford's Romeo assembly plant. After completing each engine, its builder team engraved their names in a small metal placard and affixed this to the engine's passenger side cam cover as a symbol of their pride and craftsmanship. You can see Taz's engine placard near the right in the photo below.
And here's a tighter shot of the builders' plaque.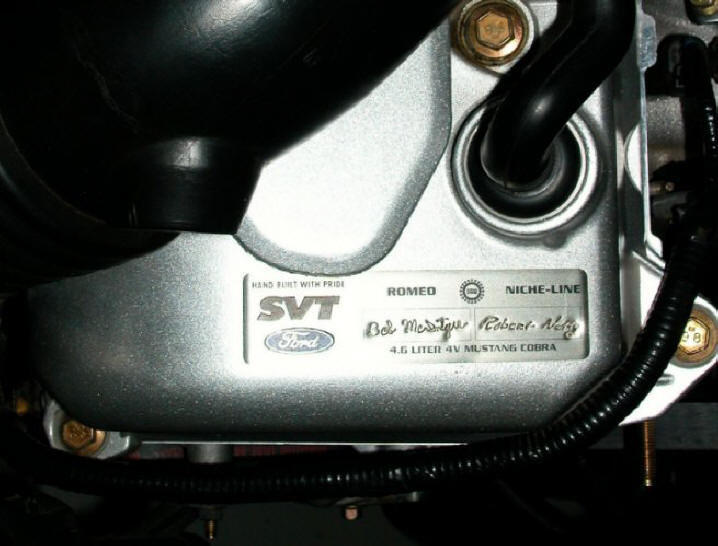 Build Certificate

While certainly nowhere near as rare as a true exotic, such as a Ferrari Enzo or Lamborghini Countach, a 2001 SVT Cobra is a reasonably exclusive beast. Not all Ford dealerships were even authorized to sell Cobras for 2001 - only SVT-certified dealerships, which totaled about 600 worldwide. Each dealership received, on average, only about a half-dozen coupes plus a half-dozen ragtops for the entire model year.
To commemorate each Cobra's creation, SVT provided a build certificate suitable for framing. Although I've altered the image's VIN for security purposes, Taz's build number and date are correct in the certificate reproduced below. As you can see, Taz's "birthday" was 30 MAY 01, which makes him a Wednesday car (I've been told that's a GOOD thing). The certificate also announces that Taz is number 1925 of 3384 Cobra convertibles that were produced for the 2001 model year. I believe being in the middle of the production run is also advantageous - late enough for all the initial foibles to have been addressed, but still early enough to minimize the possibility of falling victim to builder burnout.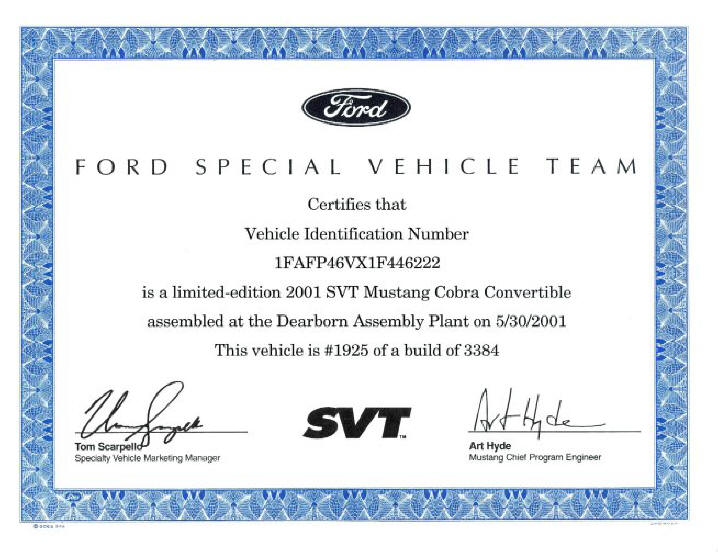 Coupe and convertible build numbers were individually sequenced for 2001, and 3867 Cobra coupes were built in addition to the 3384 convertibles, for a total model year production of 7251, the lowest of any of the IRS Cobras other than the purpose-built 2000 Cobra R. Understandably, with so few '01 Cobras available, obtaining one for "only" MSRP was a difficult task. Many buyers paid considerably more than NADA sticker pricing for the privilege of ownership, and purchase prices often included hefty dealer-applied "market adjustments." I considered myself particularly lucky that my dealer was one of the few who did not demand any additional ransom.
Only three factory options were available for a 2001 SVT Cobra: front floor mats, a rear wing, and polished wheels. As you can see from Taz's NADA sticker, reproduced below, he was equipped with all three. The wheels and floor mats were replaced early on, but the factory wing remains.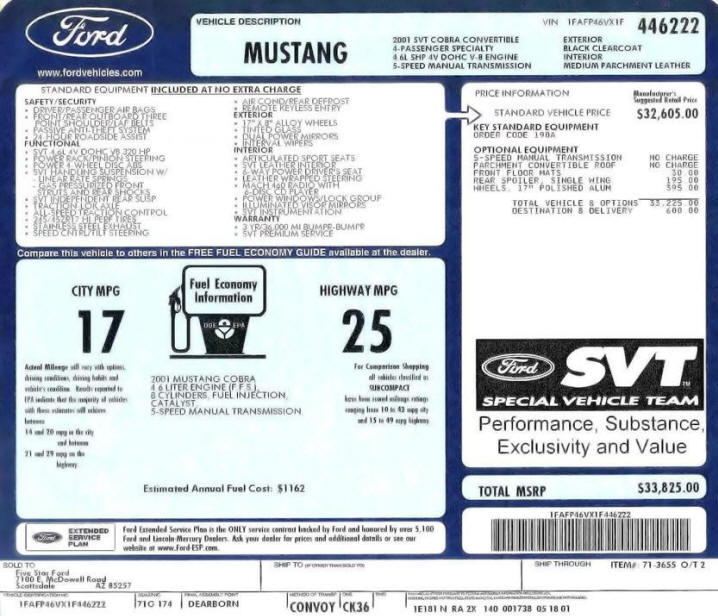 NOTE: Aside from the very limited production, track-oriented Cobra R's (a total of 300 manufactured for the 2000 model year), there were no 2000 or 2002 model year Cobras available for domestic consumption here in the USA. Stick axle SVT Cobras were available prior to the 1999 model year, but Cobras equipped with independent rear suspensions were available here in the States for only four model years: 1999, 2001, 2003, and 2004. Of these, only the '99's and '01's were equipped with aluminum block motors. Citing durability concerns, Ford reverted to cast iron blocks in the factory-supercharged Terminator Cobras produced for 2003 and 2004, but everyone knew the real reason for the switch to be cost-related.

| | |
| --- | --- |
| | Ford Performance Group Website Click this link to visit the Ford Performance Group official Website (formerly the home of Ford's Special Vehicle Team). |