The photographs of the car that I've taken over the years provide an interesting visual biography of Taz's gradual transformation into a genuine world-class vehicle. Besides chronicling the car's visual changes and equipment upgrades, these photos serve to remind me of just how much the Cobra's character and capabilities have matured along the way. This page provides a sampling of that photo biography. Although I never shot any pictures of Taz while he was still bone stock (what would be the point of that, when I could just thumb through the sales brochure and magazine reviews for visuals of stock Cobras?), I began recording the car's metamorphosis with photographs shortly after I began adding and replacing various components.


2001 Upgrades

By the end of 2001, despite having owned the Cobra for six months, I had put Taz through relatively few changes, and most of those were limited to very minor upgrades. Of course, my very first accessory purchase was an Escort 8500 radar detector to help prevent my auto insurance premiums from skyrocketing any more than they already had due to the car's rate class. I think my second and third acquisitions, although not really mods per se, were a custom car cover made from a high-tech fabric called WeatherShield and a padded front mask, both from Covercraft, and both intended to keep our newest family member looking sharp. (Incidentally, Taz still catches his ZZZees under that same cover, but he now sports a more stylish and more easily removed mask - details about that later.)
Not being a big fan of injection-molded plastic, I began replacing various plastic parts with higher quality stainless steel and billet aluminum pieces during 2001. I also replaced the stock Mustang side scoops with a pair of more aggressive Shelby-style scoops, similar to those that SVT later adopted for duty on the '03 and '04 Cobras. Another cosmetic upgrade that Taz began sporting in 2001, long before it came along for the ride - so to speak - in every '03 and '04 snake was a set of aluminum-trimmed Bullitt-style pedals. Also, before 2001 was over, I had concealed the car's pie tin factory fender flares behind a much more interesting set of convex flares designed and manufactured by Australian automotive OEM supplier and accessory maker EGR, this primarily to prevent pitting of the lower body surfaces.
As for early performance upgrades, I replaced the car's pathetic SpongeBob factory shifter with a much more precise Steeda Tri-Ax unit during my first six months of ownership. I also upgraded a few intake and exhaust components. A record of those early upgrades remains on this site, even though some of the mods, themselves, are now gone.
Here's a composite graphic containing a few shots from 2001. Click the composite to see a few individual photos from the car's first year.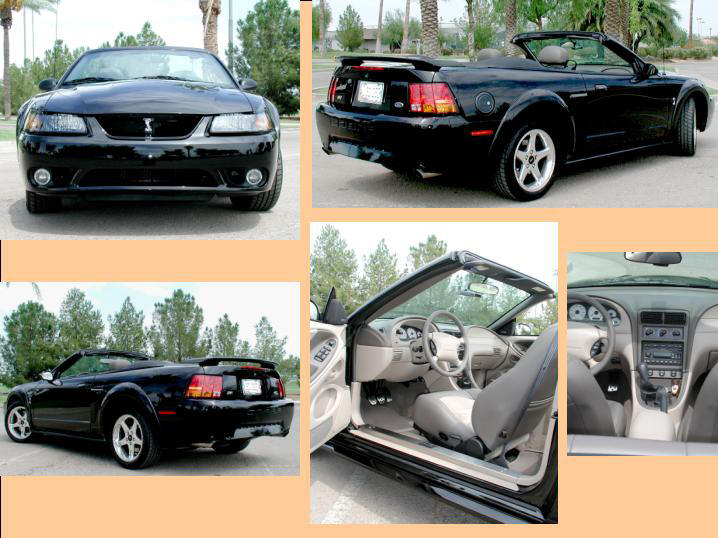 As you may have noticed, Taz was still sporting a radio antenna that could have doubled as a pretty fair casting rod. He was also still rolling on his factory sneakers. Those undersized wheels and tires, coupled with the aftermarket fender flares, really emphasized that tail-between-the-legs, mock-4WD look with which Ford graced all New Edge 'Stangs before they left the factory. Those characteristics, among countless others, would eventually change, but every journey has a starting point. The key is to remain focused far enough down the road to beat a reasonably straight path to one's chosen destination.

2002 Upgrades

The first order of business for Taz in 2002 involved replacement of his stock catback with a Ford Racing model FR500 catback system, which was an early birthday present from Hillie. (This site's Exhaust System page contains details about the catback.) I continued upgrading the car's intake system, looking for a bit more power, and I swapped out the driveshaft during this period. I also shortened the Cobra's radio antenna to roof height during 2002. However, Taz's most significant - and expensive - 2002 upgrades focused on his chassis/suspension, and wheels/tires. Together, the upgrades to these three systems dramatically altered the Cobra's ride and handling. As with the exhaust system changes, you can find details about these various upgrades on their related pages.
Here's a 2002 composite graphic. For this one, I selected shots similar to those used in the 2001 composite, so you can easily compare and contrast. As with the 2001 composite, clicking this graphic will take you to a page of assorted individual photos taken during the period.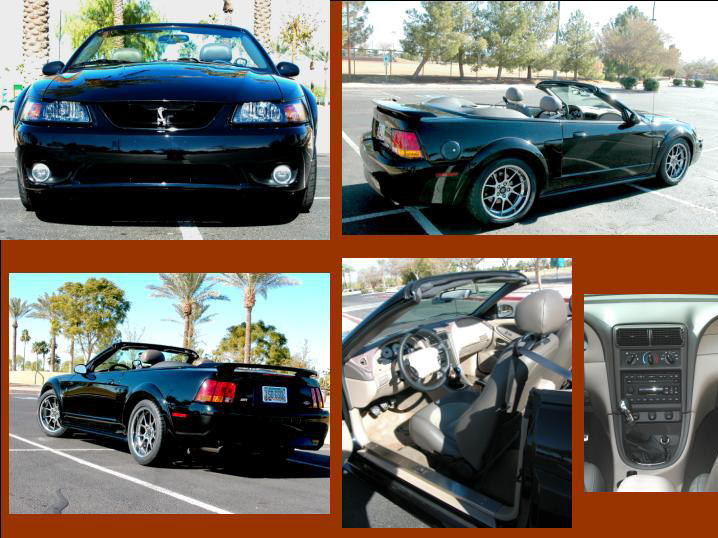 Alrightee, then! By the end of 2002, the Cobra was noticeably, although not astonishingly, quicker. It also handled and looked much better than it had in 2001. The 4WD and tucked-in wheel look were gone, as was the fishing pole antenna. The car had begun to mature.

2003 Upgrades

Taz's upgrade program ended up on the back burner during most of 2003. Putting the finishing touches on our new house and pursuing a work schedule from hell took priority. Springtime 2003, I replaced the stock steering shaft and migrated Taz to Denso iridium spark plugs. I also added the traction control bypass circuit that is detailed on the Electrical/Electronics page of this site and replaced the Covercraft front mask with a slick new mock carbon fiber design from Colgan Custom. In the fall, I switched Taz's transmission and differential fluids over to Red Line synthetic lubricants.
During that entire year, I took only a couple photos of Taz, because of his low priority status. In fact, below are the only two 2003 photos of the Cobra that I could locate.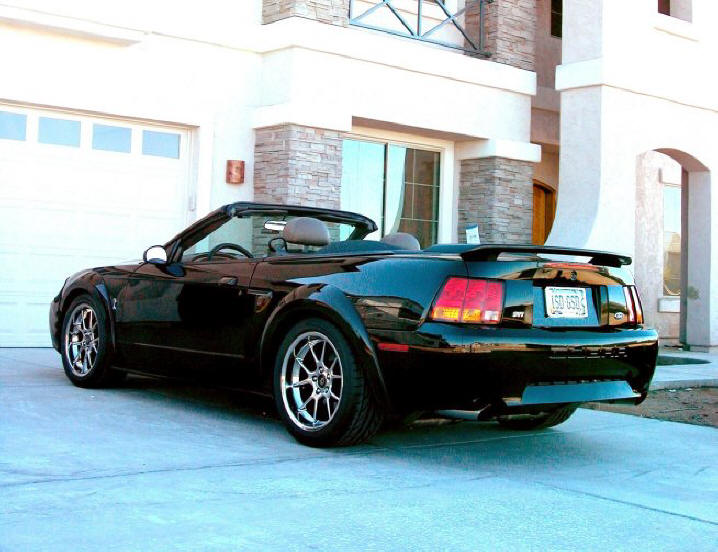 Standing in the driveway of the new house during a visit to the construction site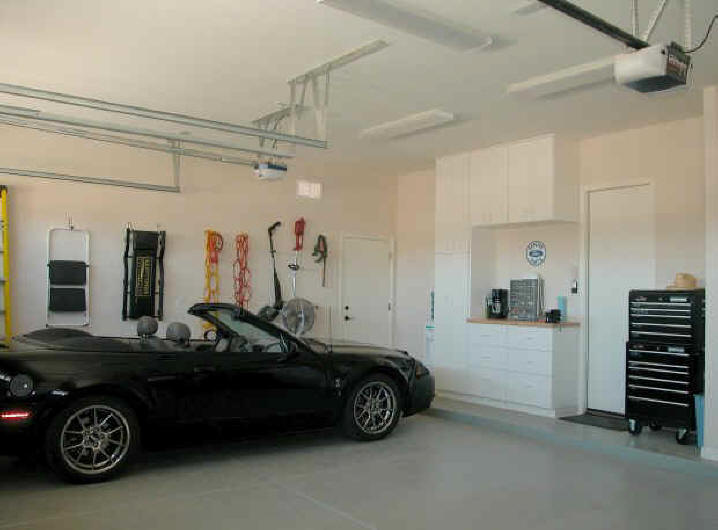 Napping in his assigned spot inside the new garage following move-in:
Okay, not many changes to the Cobra during 2003, but something BIG was on the horizon. In December of 2003, Kenne Bell finally agreed to put the shelved twin-screw supercharger kits for the '99 and '01 Cobras back into development, provided enough intrepid souls were willing to pony up (please excuse the pun) some serious earnest money in the way of $500.00 advance deposits. A KB twin-screw had been one of my upgrade dreams for Taz right from the beginning, so this was an enormously important development for me. If I had anything to say about it, 2004 would more than compensate for the neglect the car had received in 2003.

2004 Upgrades

From an upgrade standpoint, 2004 was a huge year for Taz. As soon as Kenne Bell announced that enough of us had provided advance deposits for development of the compressor kits for the '99/'01 Cobras to resume, and that the retail versions of the kits were only a few short months away, I began acquiring and installing the various parts that would play supporting roles to Taz's own twin-screw. First, he got colder plugs. Then, I added additional instrumentation, beefed up his rear end, and installed a billet firewall clutch adjuster and quadrant to provide more reliable engagement. When the supercharger kit was finally available, I sprang for the optional Big Oval throttle body, manufactured for KB by Accufab, to help minimize intake tract restrictions. I also opted for a KB fuel pump for higher capacity fuel delivery. Finally, although KB assured everyone that the stock Cobra hood could be retained with the new kit, I decided that Taz should be equipped with a vented hood to help dissipate the heat that would be radiating off the compressor case. As an unrelated project, I also removed the car's MGW fuel door and replaced it with the Ford Racing Bullitt model, because dealing with the lock mechanism on the MGW door had always been a royal pain.
Needless to say, installing the twin-screw kit plus all the other additions and modifications kept me hustling in the garage during just about every spare moment from January through August. But when I had finished, the Cobra had been transformed. Below, I've inserted a composite of a few 2004 photos. Again, I stayed with shots similar to those that were used to create the previous composites, but I added a couple twists. First, as you can see, I selected a different venue. (My usual spot was a crowd scene that day.) Second, I left Taz's mask in place, rather than removing it for the photo shoot. Hillie maintained, "Taz just wouldn't be Taz without his mask," and I had to agree. Besides, I liked the sinister bearing the mask imparted to the car, and Taz had finally earned the right to look sinister. Like the other composite graphics on this page, clicking this one will take you to a page of assorted individual photos taken during the period.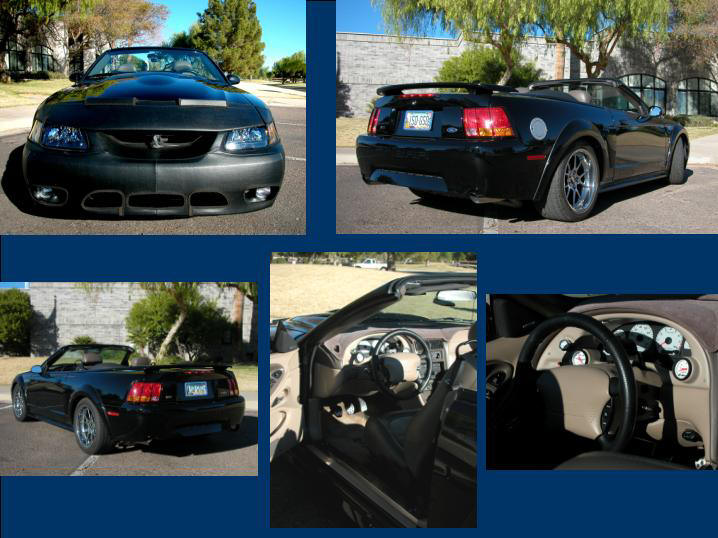 2005 Upgrades

2005 wasn't the monster year for upgrades that 2004 had been. I was completely satisfied with the Cobra's power output, so I didn't go looking for anything new in that department. However, the additional power had marginalized the car's braking system, so Taz's first upgrades for 2005 focused on improving his stopping ability - new high-performance pads, rotors, lines, and fluid. You'll find details about his brake system upgrades on this site's Wheels / Tires / Brakes page.
A pair of ECE-spec Hella bi-xenon headlights provided Taz with a significant 2005 upgrade in a different area - nighttime driving illumination. Visit this site's Electrical / Electronics page for the details about the pair of HID projector headlamps with which I retrofitted the Cobra.
The installation of a thoughtful gift from Hillie was the only other change worthy of note for 2005. Hillie bought a Roush trunk lid toolbox and assorted Craftsman tools for the Cobra as one of my Christmas gifts. This toolkit is not only functional, but adds a real touch of class to the car. See more about it on this site's Body / Trim / Misc page.
Before beginning his annual photo shoot for 2005, I removed Taz's front end mask. Although the mask is almost never off, and it really is one of the car's primary visual attributes, I decided that leaving it on would have been akin to having beauty pageant contestants to wear parkas during the swimsuit competition. Maybe I'll change my mind again at some point, but for 2005, Taz appears sans mask in his annual photos. As with all the other composite graphics on this page, you can jump to a page of selected individual photos by clicking on the composite.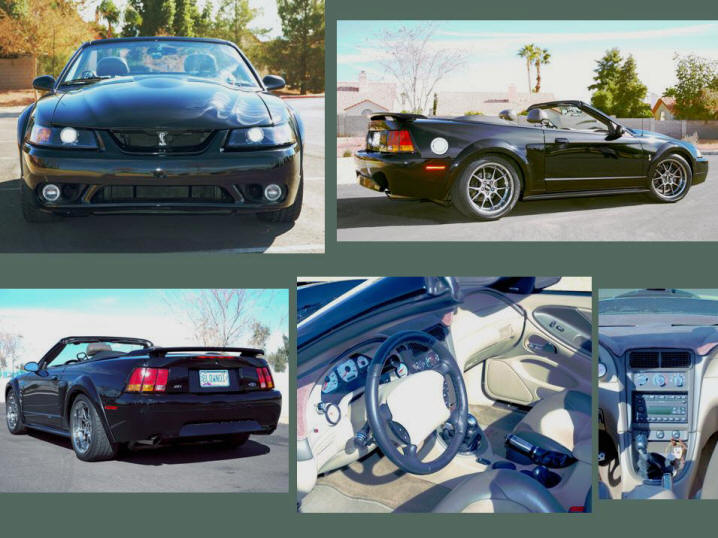 Someone on one of the Mustang forums used to include the slogan, "Don't BLING it, if you can't BRING it!" on his signature line. Since I believed I had adequately fortified Taz's performance in enough areas to have earned the right to add a bit of bling, I did.

2006 - 2007 Upgrades

Prior to these photos, I always shot Taz's annual photos during the Christmas holidays, just prior to New Year's. But this year's upgrade project had him up on jack stands from late 2006 well into 2007, so his photo shoot was nearly six months late. Since I'm finished with all the wrenching that I'm planning to do for 2007, I've decided to call these the 2006 - 2007 upgrades.
Many significant - and pricey - upgrades this time around, but no sweeping visual alterations, because most of the upgrades were directed at the car's driveline, suspension, and steering. You can see photos of these upgrades on their related pages, but all the visible indications of any change are very subtle. Inside, you'll see a new shift knob that is mentioned along with the Reverse Solenoid circuit on this site's Electrical / Electronics page and a satellite radio receiver, detailed on the same page. Outside, the biggest visual difference is a plain "SVT" grille badge with which I have replaced the former snake badge. If you look closely, you may also notice that Taz got new sneakers, as described on the Wheels / Tires / Brakes page, and if you have a particularly keen eye, you might note that his ride height and rake changed very slightly.
You get mostly top-up photos this year, because I have finally noticed that I've been neglecting those. Well, that and the fact that it was already unmercifully hot here in the Fort Stinking Hole Indian Reservation and Cobalt Bomb Test Range by the time I rolled the car out for the shoot. Summertime days in the desert are typically top-up weather. If you don't want to cook your cabeza, running with the top down during the summer is advisable only between sunset and early morning hours.
As always, clicking the composite below will take you to a page of assorted individual photos. However, this year's page will take longer than usual to load, because there are LOTS of photos this year.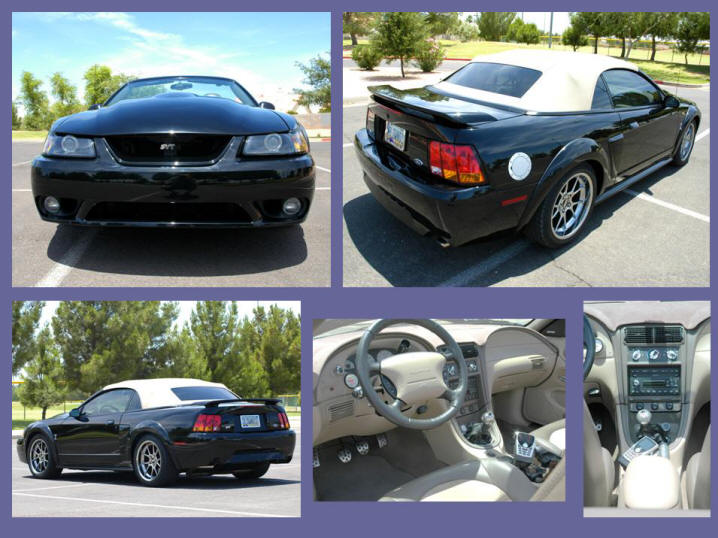 As I noted above, 2006 and 2007 were mostly all about the suspension, drivetrain, and steering. The suspension upgrades included assorted stiffer aftermarket bushings to replace the OEM parts, new front control arms from Ford Racing, new Maximum Motorsports sway bar end links, and a set of Engineered Performance linear rate springs. Visit the site's Chassis & Suspension page for details about these upgrades.
The car's steering system upgrades included front and rear bumpsteer kits from Steeda and Maximum Motorsports, plus a Steeda X2 balljoint kit. You can read the details of the steering upgrades on the site's Steering System page. The new drivetrain upgrades included a pair of DSS halfshafts, a Torsen racing differential, a Ford Racing 3.73 ring and pinion set, a heavy duty pinion brace from Paul's High Performance, a Ford Racing Terminator clutch kit and aluminum flywheel, a Ford Racing 00R-spec T-56 transmission, and a new MGW short-throw shifter. You'll find these upgrades on the Drivetrain page.

2008 Upgrades

Just a few upgrades worth mentioning this year, but they are readily apparent to anyone who glances inside the car. Up front, a pair of supportive Recaro touring seats on Wedge seat bases have replaced the OEM chairs and brackets. Also, Schroth Rallye-3 ASM harnesses have been added to assist in keeping the front seat occupants secured during "spirited" maneuvers. In the back, the rear bench has been recovered with matching Recaro leather. You'll find details about the seat-harness upgrade project on this site's Body-Trim-Misc page.
Click the composite below to jump to a page of assorted individual photos. No engine bay photos this year. Everything in there looks exactly like it did last year.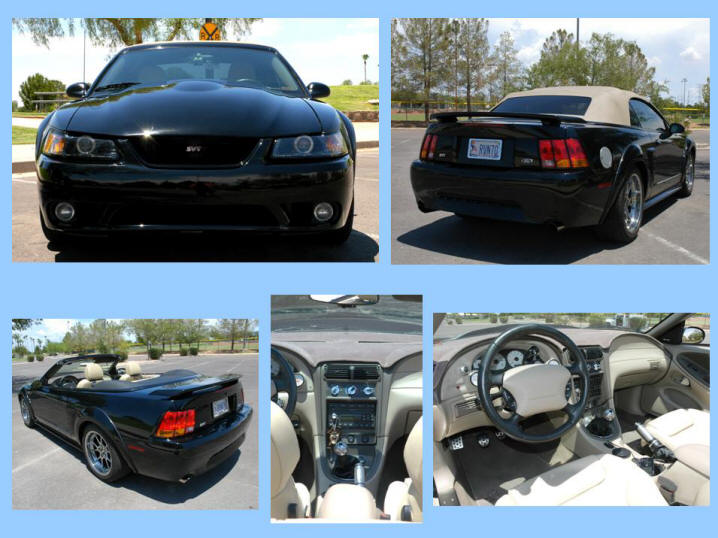 Shooting Taz's 2007 annual photos during the summer, instead of just before the end of the year, as I had always done previously, had worked out so well that I decided to do the same for 2008. The lighting provided by the intense summer sun made such an improvement in the photo quality, that I have decided to continue shooting the Cobra's annual photos during the summer months. Gotta love that high solar index.

2009 Upgrades

2009's upgrades were focused primarily on Taz's instrumentation and telemetry equipment. I expanded Cobra's gauge complement to include a Dynojet Wideband Commander kit and a pair of Auto Meter temperature gauges: one to monitor intercooler fluid temps, and the other to keep tabs on the temperature of the engine oil. Telemetry upgrades entailed the installation of the latest in electronic countermeasures from the folks at Escort Radar. You'll find details about the gauge upgrades project on this site's Instrumentation upgrades page. The telemetry upgrades are detailed on the Electrical/Electronics page.
During the course of the year, I also attended to a few minor issues that had cropped up. First, I replaced the rear pair of Russell braided stainless brake hoses with a shorter pair from Maximum Motorsports after discovering an interference issue between the Russell hoses and the outer CV boots of the car's DSS Level-5 half-shafts. I also removed the JBA headers and reinstalled the OEM exhaust manifolds (after first coating them with a thermal barrier compound), to rid myself of a number of exhaust leaks that had developed with the JBA's. Finally, I installed an upgraded set of motor mounts from Energy Suspension after the original mounts had deteriorated to the point they were no longer tolerable.
Click the composite graphic below to jump to a page of selected individual 2009 photos. You won't see any top-up photos this year. The spring weather was too perfect to even consider raising the top.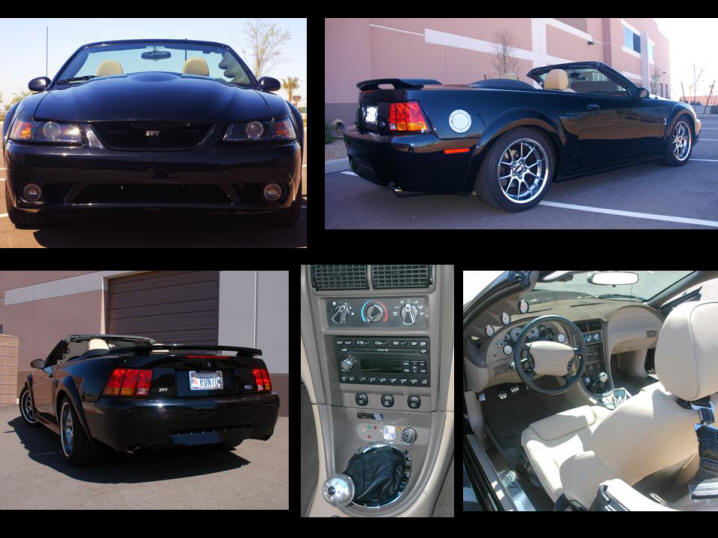 It just so happened that I needed a fresh photo inventory for my insurance company in the early spring of 2009, so that's when I shot Taz's annual photos. (Due the Cobra's extensive collection of upgrades, I've covered it with an "agreed value" policy to protect me in the event of a total loss.) The weather was outstanding and the solar index was high enough to provide some excellent shots, so I may continue shooting the annual photos during the springtime. Although the summer sun provides the highest solar index and subsequent photo quality, it also produces temperatures well in excess of 100 degrees here in the desert, making summer photo shoots less than ideal from a personal comfort standpoint.

2010 Upgrades

2010 was just about maintaining the status quo. No upgrades at all. I had been very happy with the car and not looking to make any changes. I did replace Taz's balding sneakers with a new set - same brand, same model, same sizes, so even those look essentially the same. That's it. I have a couple minor parts sitting in the garage, but they won't show up on the car until 2011.
Since the Cobra looks identical to the way it did last year, I decided to just have fun with the camera and take some artsy photos with a couple special effects filters and jacked up exposures. No top-up or hood-up photos for 2010. Look through 2009's photos if you really want to see the engine bay, and the 2008 photos if you want to see shots of the car with the top up. Taz's exterior still looks exactly the same.
As always, click the composite below to jump to a page of selected individual photos.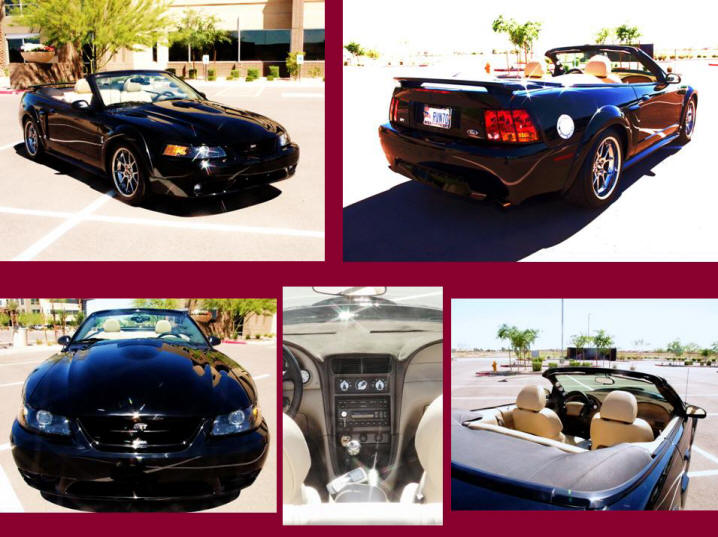 This year's photos were taken shortly after Easter, less than two months prior to Taz's birthday. The weather was excellent and the solar index was already very high. Shooting the annuals during this time of year is working out quite well and will probably continue indefinitely.

2011 Upgrades

As 2011 got underway, Taz celebrated a revival of his upgrade program with the installation of some outstanding navigation and entertainment equipment. The centerpiece of this new gear was a virtuoso JVC KW-NT3HDT double-DIN head unit, a 2010 Christmas gift from my better half. I supplemented this unit with a number of additional components to improve the system's bass reproduction, specifically an Alpine SWR-1243D subwoofer driven by a 2500-watt BOSS Class-D monoblock amp and 8-farad BOSS CAP8 stiffening capacitor, along with the necessary supporting hardware and materials. Visit this site's Electrical / Electronics page for details related to this project.
Shortly after finishing the nav/media project, I freshened all of the Cobra's brake system components, primarily with identical new parts. While refreshing the brakes, I installed a Quantum Motorsports front brake cooling kit, which I had acquired several months earlier. I also installed a pair of Maximum Motorsports competition IRS tie rods while I had the car in the air, because the rubber bushing at the inner end of one of the OEM trailing links was beat. You'll find details about Taz's 2011 brake system project on this site's Wheels / Tires / Brakes page, and the competition trailing links are detailed on the Steering System page.
Another 2011 upgrade worthy of mention was the replacement of the car's OEM single row radiator with a high capacity Ford Racing unit. Unlike the OEM radiator, which is composed of an aluminum core epoxied to plastic side tanks, the Ford Racing part is constructed of all aluminum, with its 2-row core soldered into its side tanks. To minimize the possibility of developing stress cracks along the solder joints, I also installed more compliant Mishimoto upper radiator stays with the new radiator. You'll see the details of this project on the Body / Trim / Misc page.
I shot these photos at the end of April. As usual, the weather conditions were ideal for the annual photo shoot, so I was able to get lots of great pics for 2011 - so many that I had difficulty picking the few I'd publish on the site. Click the composite below to jump to a page containing the winning shots.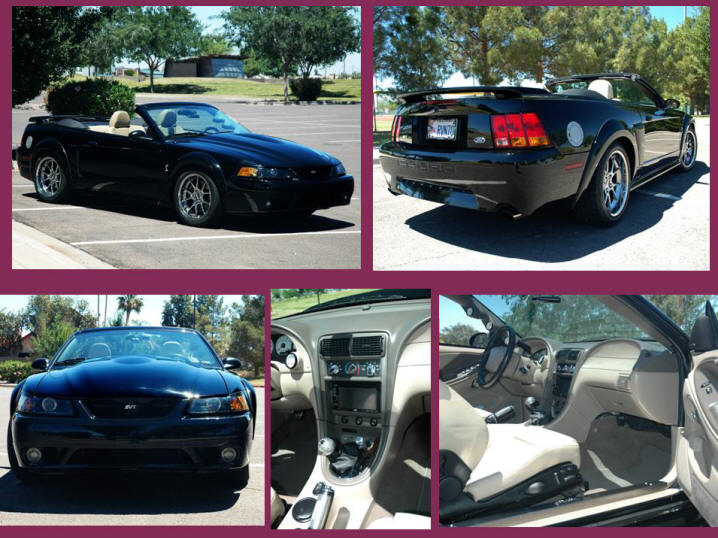 I sized the Cobra's web shots a little larger this year to provide better detail, but the 2011 venue should look vaguely familiar. I took Taz to the same location where I had taken him for a number of his prior annual photo shoots, including his first. This seemed only fitting, because we are celebrating Taz's 10th anniversary this year, and it enables me to compare photos taken a decade apart against the same backdrop.

2012 Upgrades

Just a few upgrades for 2012, but each was significant in one way or another. First up was the installation of a clear polyurethane mask for Taz's front end, courtesy of Santa Hillie, who had filled his 2011 Christmas stocking with enough loot to pay for a professional installation by the good folks at SmartShield. Afterward, Taz no longer needed his old vinyl mask for anything short of light speed Interstate excursions. Since the new mask is quite invisible, Taz's snout is no longer concealed from view, and he has been receiving more than his fair share of compliments as a result. Hillie says he's getting "big headers." You can read the details about the urethane mask HERE.
The second and third 2012 upgrades are unrelated and were purchased months apart, but installed at the same time - a stouter rear sway bar and an upgraded fuel tank and pump assembly. The sway bar has made a huge improvement in the car's turn-in. In fact, Taz's steering now feels perfectly neutral. Details of the sway bar upgrade are available HERE. With regard to the fuel tank/pump upgrade, what began as a tank-only upgrade escalated into a tank AND pump upgrade when I discovered the new tank had been constructed with a Terminator Cobra in mind. But I suppose it never hurts to have a little extra fuel system headroom. You'll find all the gory details HERE.
For Taz's 2012 annual photos, I was able to produce some great eye candy. After struggling for a decade with the frustrations related to photographing a black car in bright sunlight without either washing out the background or ending up with the car looking like a black blob, I finally migrated to HDR (High Dynamic Range) photography for Taz's annual photos. This advanced photographic technique, coupled with a PC-based HDR processing application, has also enabled me to play with some interesting new processing effects, so you get a bonus in the way of some special FX shots for 2012. No 2012 top-up photos - the weather was just too good. But there are plenty of great top-down shots for your enjoyment.
As has been the case every year, the graphic below is a hyperlink. Selecting it with your PC's pointing device will transport you to a page containing the more photo-representational 2012 shots.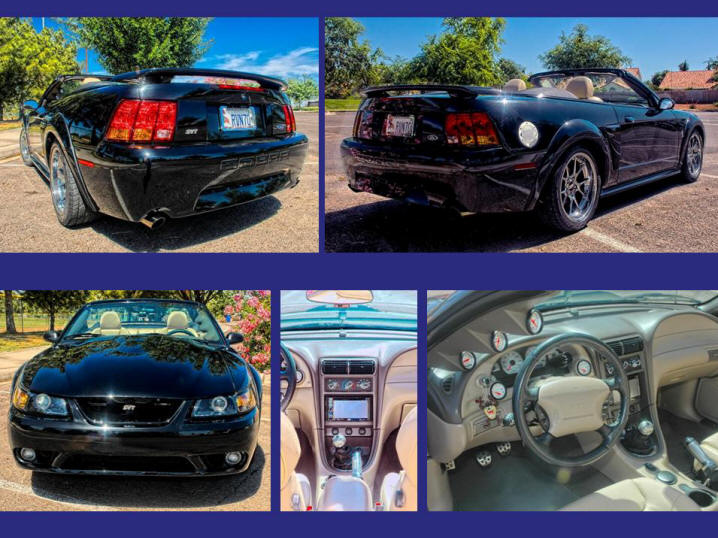 That's a fascinating pair of mechanic's gloves in the last couple 2012 photos, isn't it? Don't bother scouring the Internet for a similar pair, because I doubt you'll ever find any like them. They're rare collector's items, and I am indebted to my friend Joe for this pair, as well as an equally rare matching Special Vehicle Team cap. Will SVT ever again make these available? Your guess is as good as mine.
The photo below is an HDR shot to which an interesting effect called "Retina Burn" has been applied. This photo is also a hyperlink, but selecting this one will land you on a page containing a few shots that have been altered with some intriguing special effects.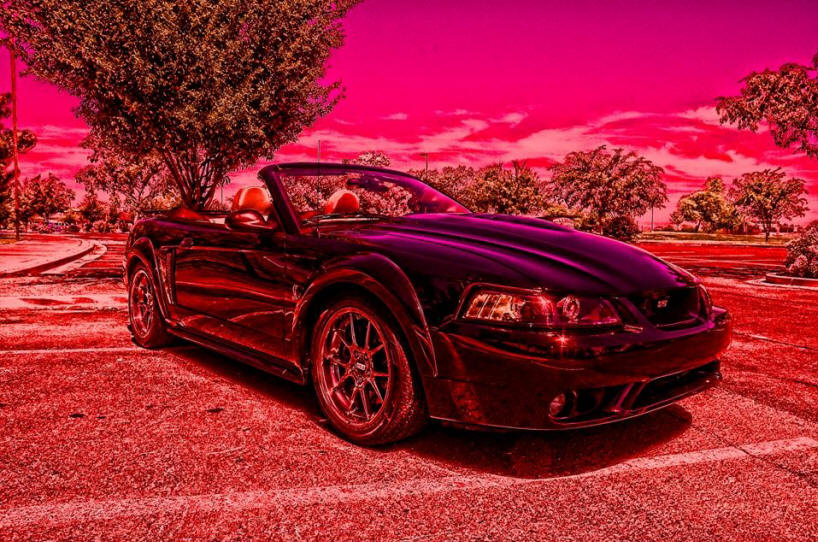 As the above photo implies, I have once again up-sized the Cobra's web shots. The 2012 photos are a little bigger than those for 2011, which were a little larger than those for previous years. Since the average PC's screen resolution has improved significantly since I created this site, and since almost all Internet connections are now broadband, I thought it time to take advantage of the increased visual real estate. Taz's 2012 photos were again shot at the same park where I took him for his 2011 photo shoot, as well as several prior annual shoots. I like the spot, because, in addition to providing background continuity, it offers an uncrowded, photogenic backdrop.

2013 Upgrades

Only one upgrade worth mentioning for 2013, and it's all about ambience and convenience, not performance. I finally got around to installing a fistful of courtesy lamps that Ford's bean counters whacked out of all the New Edge Mustangs to justify their salaries. You'll see these new lamps glowing in a few of the regular photos. I've also provided close-ups of a few that wouldn't otherwise be visible. If you're curious about the details of this project, you will find them HERE.
I located a nice shady spot in a nearby park in which to shoot Taz's 2013 photos. As I had done for 2012, I employed HDR post-production techniques to create these images. However, I kept them considerably more subdued this year. No top-up photos photos again for 2013. I felt neither the need nor the inclination to provide those, since Taz runs top down most of the time.
In keeping with tradition, I have turned the graphic below into a hyperlink. Selecting it will take you to the page containing the Cobra's 2013 annual photos.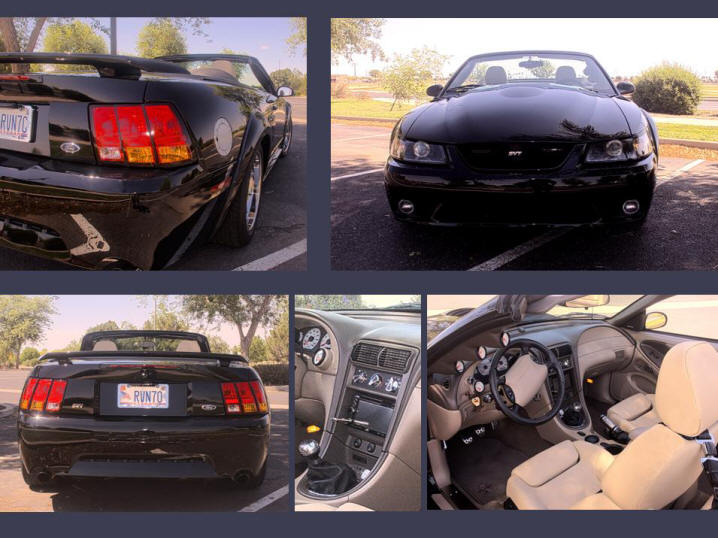 As you'll undoubtedly agree, the 2013 photos don't pop with the surrealistic sizzle of the 2012 shots, but their color intensity is somewhat more natural. Personally, I'm still on the fence regarding which I prefer, but that's a decision for another time.

2014 Upgrades

Well, I spent most of the year simply enjoying the hell out of the Cobra, so Taz received just a couple minor upgrades plus another set of new sneakers for 2014. The first upgrade project involved replacing the front OEM Mach 460 midrange/tweeter units with a pair of PowerBass speakers - project details published HERE. The other project was strictly a convenience mod. I was tired of removing the Cobra's fixed mast antenna before covering the car each time and then reinstalling it prior to my next drive, so I replaced the fixed mast with a mini power antenna. You'll find the details about this project HERE.
As for the new sneakers, Taz's second set of Dunlops were due for replacement by October of 2014. They had aged out, so they were really hard, and the tread on the rear tires had worn down to 3/32". I decided to see what all the fuss surrounding the Michelin Pilot Super Sport tires was about, so I replaced the Dunlops with a set of those. You'll find the details HERE.
This year's photo shoot was late, coming near the end of October. However, this worked out for the best, because I had just picked up an outstanding new camera a couple weeks before. The composite below is larger than any of the previous composites to signify that the photos on the page it is linked to are also much larger. My new Sony camera takes such killer photos that I just couldn't bring myself to "dumb" them down for web publication to quite the same level I had in previous years.
DIAL-UP WARNING: Although I did reduce the photo file sizes to less than 1/20th of the originals, they're still about twice the size of any previous annual photos - so expect the page to take longer to load than those for previous years. But the quality difference will be worth the wait. I promise. As usual, clicking the composite in this section with your pointing device will take you to a page containing the Cobra's annual photos.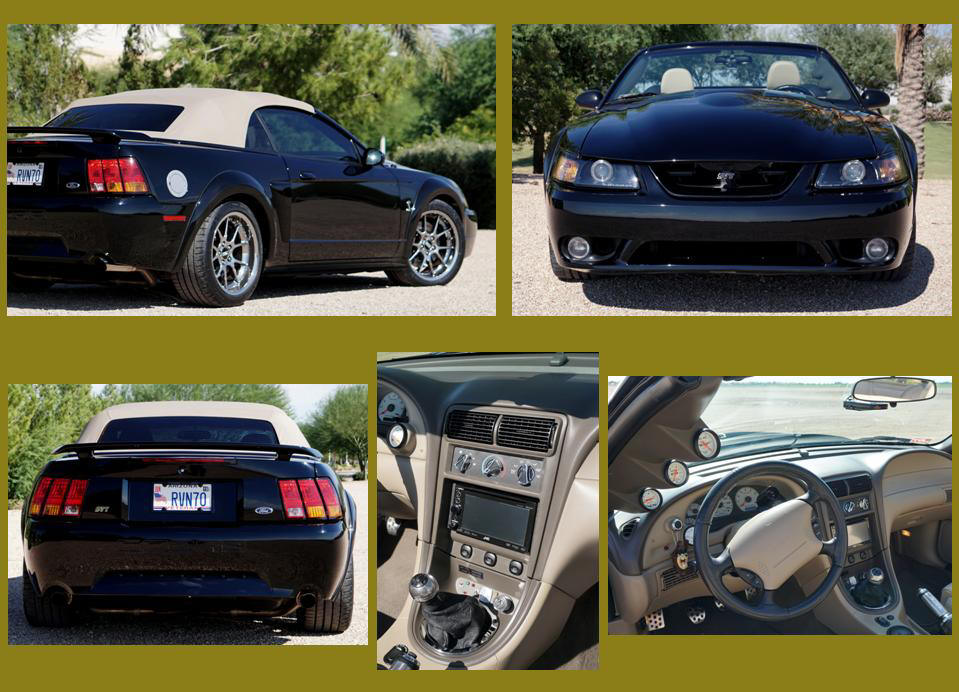 I tried to provide a good mix of top-up and top-down shots, so I hope you liked these. Practically no post-production work was required. My a6000 is so good that it even automatically adjusts each photo's dynamic range for best results. Also, as you may have noticed - or not - the 2014 photos were shot in 16:9, which is one of the new camera's native aspect ratios. Earlier annual photos were either 5:3 or 6:4, depending on the year, but I think 16:9 is perfect for automotive photography.

Graphic Design Shots

During the first quarter of 2008, Chuck Cannova, a graphic designer in Southern California, did some work on a couple of photos that I had posted on another website and offered the resulting artwork to me for a small fee. I liked his work, so I bought the images. Although they pre-date the car's more recent upgrades, I still enjoy them quite a bit. They are reproduced below.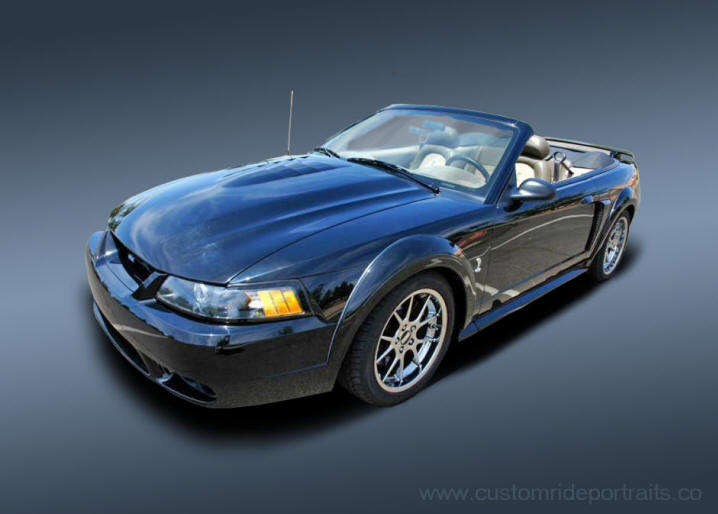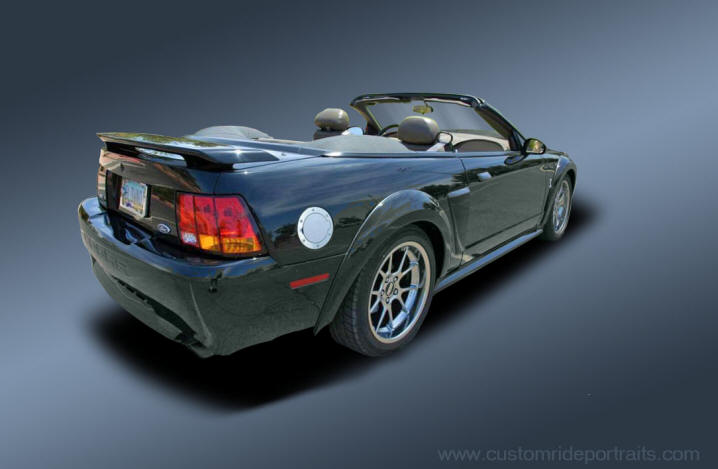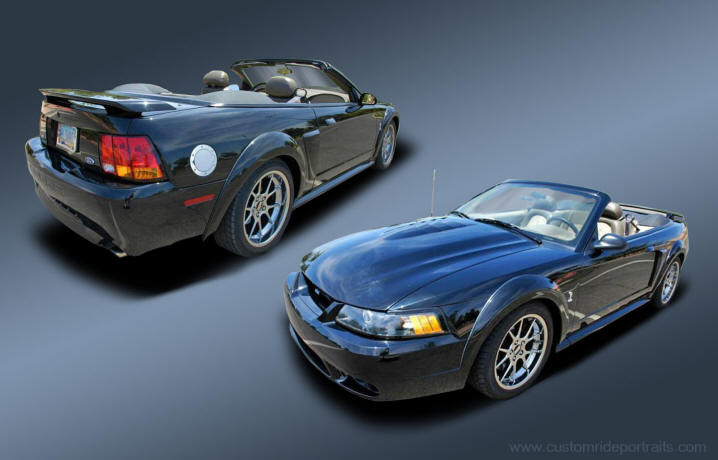 I'll undoubtedly have Chuck provide me with similar work from time to time in the future, just to have artwork of the car in its current state of trim. If you also like his work and want him apply similar effects to a favorite photo of yours, you can now find the company at SoCal Images .
2009 Images
Mid-2009, I decided to try my own hand at producing a couple graphic design images since I have a couple good graphics editing packages installed on my PC. It took me several hours to produce the shots below, but I think they turned out well for a first effort. Maybe not as good as Chuck's, but very respectable for amateur work.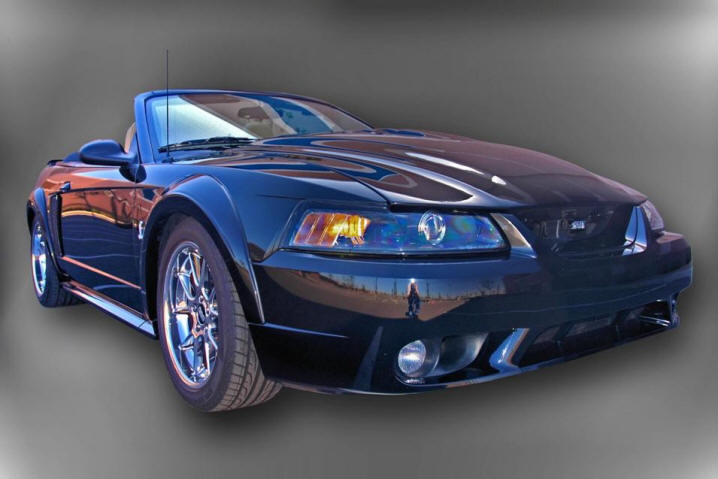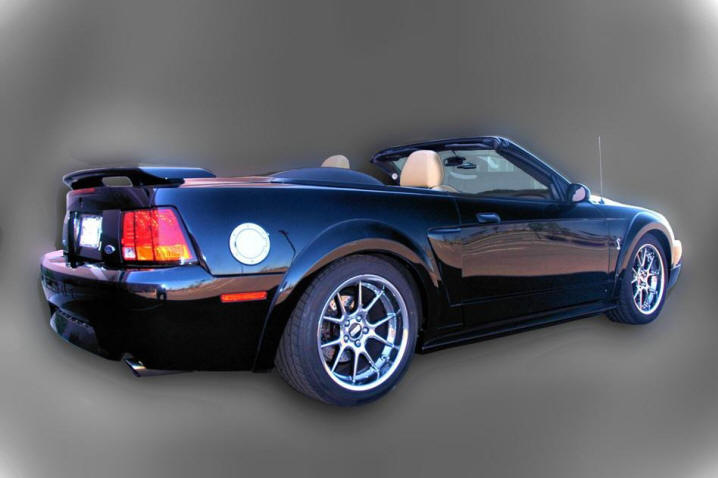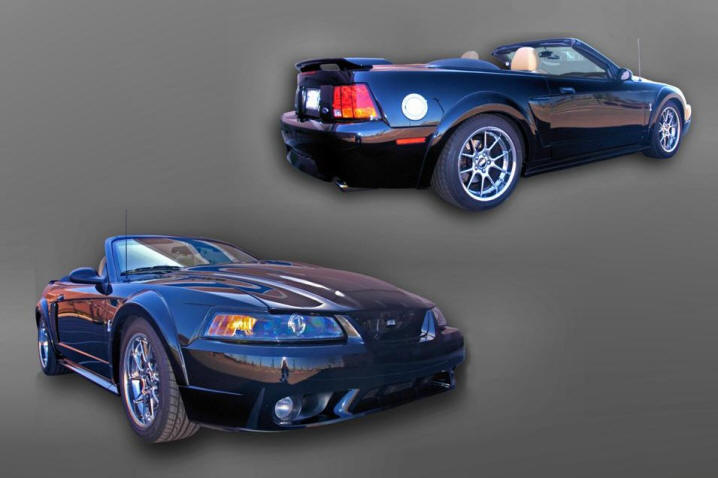 Miscellaneous Close-up Shots

From time to time, I've had a requests for close-up shots of various upgrades. In 2006, I finally got around taking some. I split them up by category, so click on interior close-ups, exterior close-ups, or engine bay close-ups to jump that page and view them. As always, the pages containing the close-up shots are very graphics intensive, so they may take several seconds to load.
I made a number of obvious changes after I took the 2006 shots that appear on the three detail pages linked above. In 2008, I took a few assorted fresh close-up shots, and several more early in 2010. You'll find them on the Misc 2008-2010 Close-ups page. (The white areas that you'll see on the gauge bezels are just vinyl tape that I stuck there to help me find the sweet spots quickly in the heat of battle.) I'll try to remember to continue shooting close-ups in the future to remain current, but I'll still keep the older shots around to provide a sense of perspective. A visual "then-and-now."

SoCal Images Website Click this link to visit the SoCal Images Website.